Logistics
- General Fleet Information

At any one time, a total of over 700 vehicles are in operation on behalf of A.W. Jenkinson. The 500-plus A.W. Jenkinson owned vehicles and around 200 subcontractors are primarily articulated units towing chipliners, self-unloading 'walking floors' and traditional tippers.
A major consideration for every environmentally responsible business is transport efficiency. Transport and logistics is a core activity for A.W. Jenkinson and the company drives hard to ensure maximum efficiency; supported by a fleet made up primarily of vehicles meeting the latest, stringent Euro 5 emissions standards. Importantly, incisive planning cuts empty running miles, whilst dispatch to delivery distances are minimised though the use of a national network of vehicle fleets and processing sites that are located as close as possible to both suppliers and end users.
Every one of the 1,000 or-so movements each day is planned and controlled by A.W. Jenkinson's own highly experienced traffic team. Transport movements cover the entire UK and parts of Europe and are extremely varied, ranging from mountain top collections of forestry residues to deliveries of wood flake bedding to farms and chipped wood to Panelboard Mills and Biomass Power Stations.
In addition to the extensive bulk logistics operation, the Group operates a wide range of other units that meet a variety of specialist requirements, including limited access deliveries, timber carrying and blown particulate transport.
Articulated Units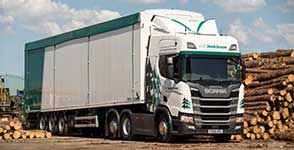 Centred on Volvo FHs and Scania Rs, the large A.W. Jenkinson articulated fleet is primarily twinned with the Walking Floor and Chipliner Trailers used for carrying raw wood, chips, sawdust and compost, with a number also towing the traditional curtainsided trailers used to deliver packed and palletised goods to the end user.
Tipper Units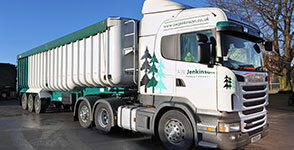 Once the key form of transport used by A.W. Jenkinson for carrying timber co-products, today the company still maintains a fleet of tipper units. These vehicles are now utilised to meet the demands of animal feed transport and sites where restricted access precludes the use of the larger articulated Walking Floor and Chipliner units.
Skeletal and Self-Loading Skeletal Trailers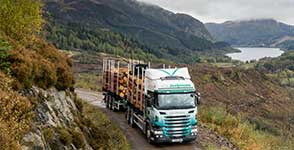 AWJ operates a number of skeletal log transporters. They have the excellent ground clearance necessary for forestry site collections and are often equipped with CTI for better traction. Many also feature trailer-mounted cranes, enabling them to self-load; an important advantage in fast-moving felling operations where loading machinery is busy extracting logs elsewhere.
8 Wheeled Units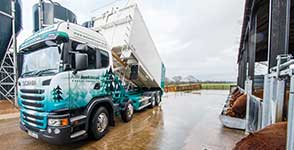 The smaller specialised eight wheeled units offer the manoeuvrability required for accessing farm sites, combined with a significant carrying capacity - allowing large volumes of flake and sawdust bedding material to be transported down even the tightest Cumbrian hill road.
Small Trailer Combinations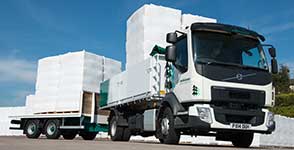 The fleet's small trailer combinations service the needs of A.W. Jenkinson's farm clients. They are ideal for carrying palletised bales of wood flake in relatively small volumes to single farms as the requirement for additional livestock and equestrian bedding arises through the winter.
AWJ Low Loaders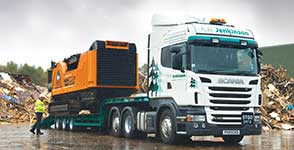 AWJ operates a number of CAT 2 low loader vehicles for transporting heavy plant, machinery and forestry vehicles from site to site. The units, which are also available to transport third party loads, enable the company to achieve rapid response to the time critical requirements of harvesting and processing.