News
A.W. Jenkinson Christmas Tree Recycling Project

This January, A.W. Jenkinson Forest Products and A.W. Jenkinson Transport Limited took part in Birmingham St Mary's Hospice 'Treecycling' Campaign for the second year in a row, helping them to recover and recycle more than 2,600 Christmas trees.
Over £49,000 was raised to help people living with a terminal illness, with the Hospice commenting that every tree they collected and recycled equalled roughly one hour of care from their nurses.
The 2,600 Christmas trees were chipped directly into the back of an AWJTL walking floor trailer on site at three different locations by one of AWJFP's Axtor chipper units. The material was then hauled to A.W. Jenkinson's processing site at Whitchurch for use in the biomass market.
A.W. Jenkinson Farms New Bespoke Cattle Trailer
07 December 2017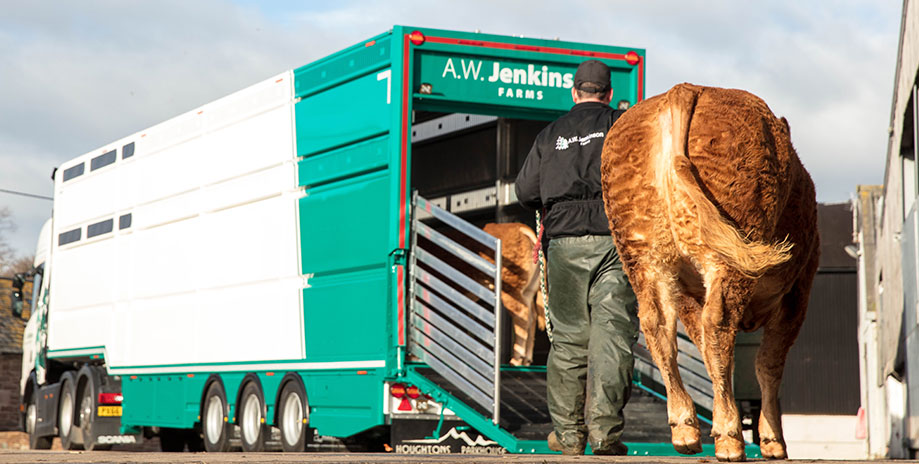 In 2017, following several successful shows for the Whinfellpark Limousins team, the decision was taken to buy a bespoke trailer in order to accommodate not only the cattle but also the stockmen.
This 45ft trailer, custom built by Houghton Parkhouse of Milnthorpe, is used to transport the A.W. Jenkinson Farm's' pedigree Limousins across the country, taking them to prestigious National and Local shows, National Limousin Society sales, and also delivering cattle to Whinfellpark Limousin customers throughout the UK. The trailer can be pulled by any one of the six hundred A.W. Jenkinson Transport Limited units.
Houghton Parkhouse were selected as the preferred supplier and manufacturer not simply as they are a local company but because their industry-leading innovations and award-winning designers ensured the best environment for both animals and stockmen. Working closely with the design team, the trailer was configured with a step frame, a single deck using the whole of the lower area for stock and an upper level step frame area as living space for the stockmen, allowing them to remain close to the livestock whilst at overnight events.
This gives the Whinfellpark Limousins team all the capacity needed for their show requirements in terms of stock numbers and staff accommodation. Additionally, there is the option of reverting the whole trailer back to stock accommodation whenever it is necessary.
Ultimately, the trailer ensures that A.W. Jenkinson Farms' most valuable assets – animals and staff can travel in the safest and most comfortable vehicle available.
A.W. Jenkinson Transport Limited 2017 Show Appearances
14 August 2017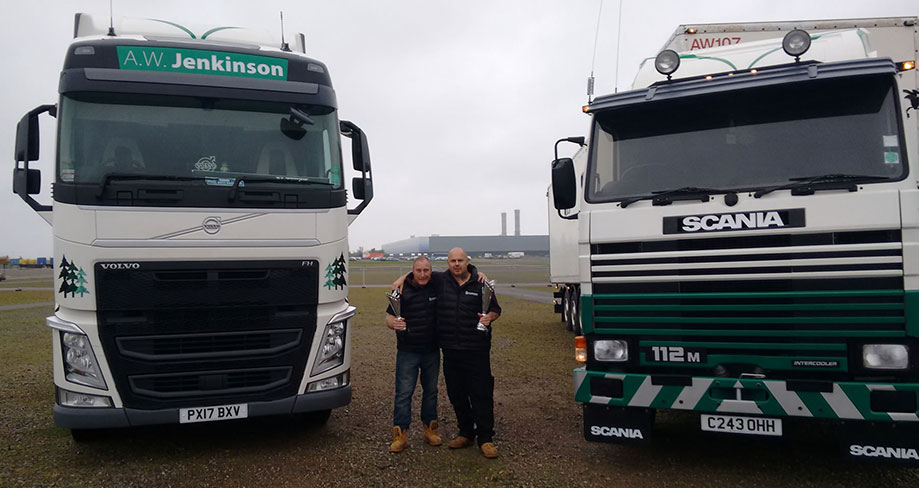 A.W. Jenkinson Transport Limited attended 'Truxx Factor Show' at Rockingham Raceway this September, with A.W. Jenkinson employees Jonny Butler and Darren Beech being awarded first place trophies, as shown pictured.
Jonny was up against a large variation of trucks with PX17 BXV in the 'Best New Truck Category' under 18 months old and came away with first place. Darren with C243 OHH was up against 51 other trucks in the Classic/Vintage Restored category and also came away with first place.
In August this year, A.W. Jenkinson Transport Limited attended The Gloucestershire Vintage and Country Extravaganza, together with 300 other commercial vehicles.
With a show of 4 immaculate A.W. Jenkinson Transport Limited trucks in the Commercial Section, a good day was had by all.
AWJTL Transport Controller, Darren Beech, was in attendance on the day, alongside drivers Jonathan Butler, Jamie Doick and Craig Clark.
For more information on the show, please visit their website: www.glosvintageextravaganza.co.uk/about-svtec.html
Also in May this year, A.W. Jenkinson Transport Limited entered a collection of trucks from its fleet into Truckfest South in Newbury.
A.W. Jenkinson drivers Jonathan Butler, Graham Miness, Gary Ersser, Jamie Doick, Russel Gray, Craig Clark and Craig Hurcombe were all entered into the 'Best Kept Company Owned' class, with Jonathan Butler and Graham Miness being presented with 'Highly Commended' awards.
Darren Beech, an A.W. Jenkinson traffic controller based at the Tetbury depot, was entered into the 'Best Vintage or Retro Restored' class with truck C243 OHH and was also presented with a 'Highly Commended' award. For more information on Truckfest South, please visit their website www.truckfest.co.uk/south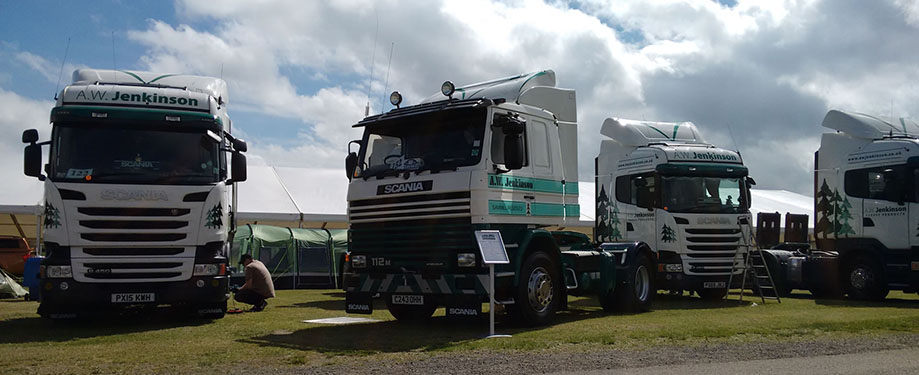 C243 OHH (pictured above) has won similar awards so far this year, with 3rd place in the 'Best Vintage or Retro Restored' class at Santa Pod and 2nd place at Thruxton Truck Show.
Both Darren and Jonny were also involved in the 'Gaydon Festival of Transport' on the 28th May, where around 100 trucks take part in a charity road-run from Swindon up the Fosse Way, finishing at Gaydon Motor Museum.
The run involved a stop-off at Volvo UK to attend a 50th celebration of Volvo trucks in the UK. For more information on the festival, please visit their website www.britishmotormuseum.co.uk
A.W. Jenkinson in the local community
31 July 2017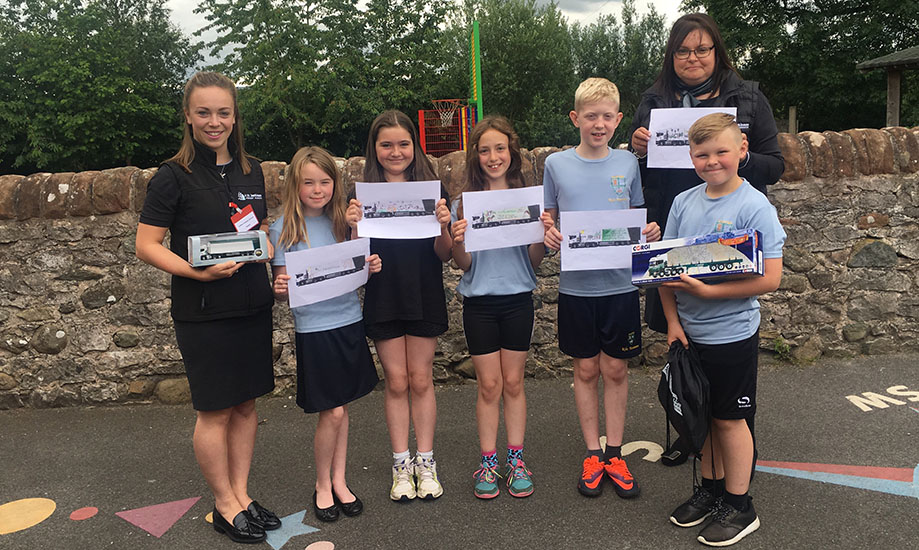 Lowther Endowed Primary School and Clifton Primary School are both located within a 5 mile radius of A.W. Jenkinson Forest Products' Head Office in Cumbria.
As part of one of their school topics, the pupils of the School were given a presentation on the wood-cycle to further their knowledge of the forestry activities A.W. Jenkinson Forest Products are involved in all over the country.
The school also took part in a competition to design an A.W. Jenkinson Transport Limited 'walking floor' trailer. The pupils can be seen pictured above with their designs, with the winning design set to be incorporated onto the side of a real-life 'walking-floor' trailer.
In return, A.W. Jenkinson supplied the school with some material for their new pathway leading to the playhouse and storytelling area, as shown pictured.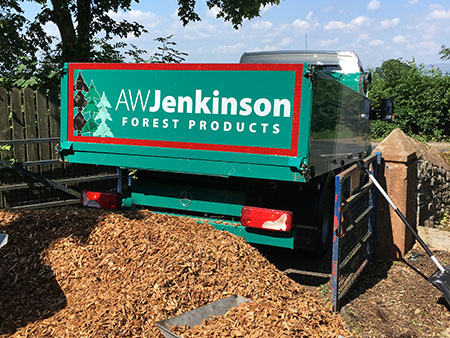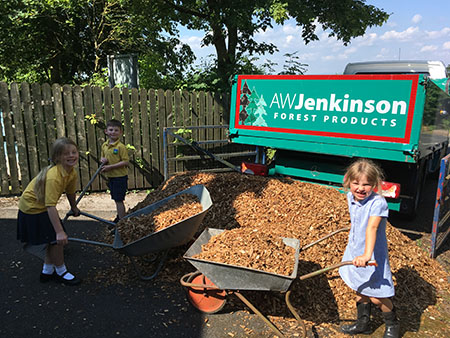 A.W. Jenkinson Transport Limited and the Armed Forces Covenant
21 April 2017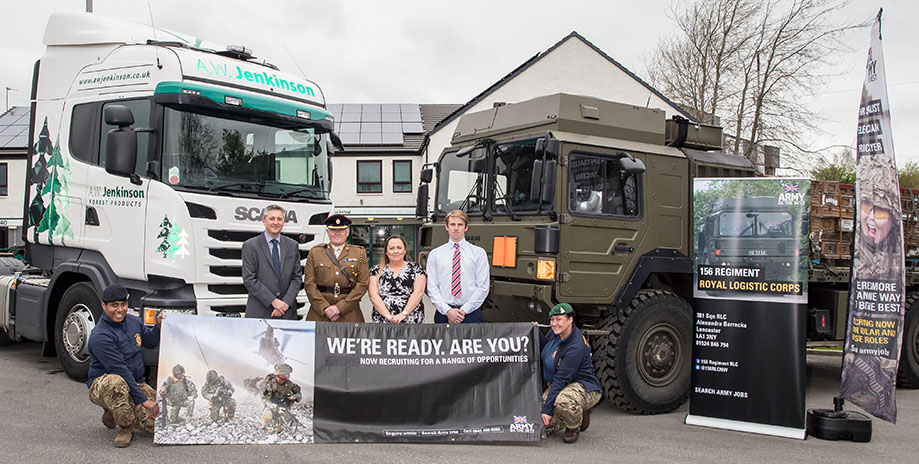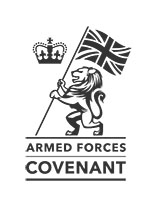 In April this year, A.W. Jenkinson Transport Limited signed up to the Armed Forces Covenant.
The Armed Forces Covenant is a promise from the nation that those who serve or have served in the armed forces, and their families, are treated fairly.
A.W. Jenkinson Transport Limited recognises the value of all serving personnel, both regular and reservists, veterans and their military families and the contribution they have made to their country and can make to our business.
As part of this commitment, whenever the Company has a job vacancy, it will guarantee an interview to any armed forces personnel who apply, whether they are leaving service or retiring.
As pictured, Major Roly Sutton visited A.W. Jenkinson Penrith Truckstop to present the certificate to Dave Lindop, Finance Director of A.W. Jenkinson Transport Limited, and Robert Jenkinson, Director, who are seen standing beside an A.W. Jenkinson Forest Products truck together with a 6 tonne MAN SV army vehicle.
For more information on the Armed Foreces Covenant, please follow the link: https://www.armedforcescovenant.gov.uk/
Football Sponsorship Day
04 April 2017
In March this year, A.W. Jenkinson Forest Products held their Annual Football Tournament in aid of The Great North Air Ambulance Service.
Ten teams were entered, with players from various sectors of the A.W. Jenkinson Group (including Transport, Farms, Garages and numerous teams from the Head Office), all from several different depots around the county, with a great day had by all.
The Final match saw the mixed male and female team from 'The Clifton Weighbridge' play 'The A.W. Jenkinson Property Maintenance Team', with the Weighbridge taking home the trophy on the day with an impressive 2 – 0 win.
Fortunately, there were no major injuries during the tournament, with only a few grazed knees by the end of the day.
In total the event raised £1,500 for the GNAAS Charity, with special thanks to J.T. Atkinson's Builders Merchants for their generous donation and to The Penrith Leisure Centre for use of two of their five-a-side pitches for the entire afternoon.
Members of the winning team have arranged to present a cheque to The GNAAS later this month.
We look forward to the next event in 2018.
The Forestry Student Sponsorship Scheme 2017
February 2017
A.W. Jenkinson Forest Products have maintained their long-standing partnership with Newton Rigg College, part of Askham Bryan College, through their 'Forestry Student Sponsorship Scheme'.   

This year, students working towards their Level 3 Extended Diploma in Forestry at Newton Rigg College submitted their essays exploring 'Changes affecting the Forest Industry over the next 20 Years' to both Simon Bullock and Richard Palmer of A.W. Jenkinson Forest Products.  They were also given the opportunity of a tour around A.W. Jenkinson's main processing site at their Head Office in Clifton to see first-hand how roundwood, bark and woodchips are processed into a range of products including decorative garden bark, animal bedding and biomass feedstocks for use in local renewable heat and power plants.
Four Newton Rigg students were presented with awards, Samuel Rowley earned 1st place, closely followed by Daniel Edgecombe, Thomas Mason and Christopher Medway, whose work was highly commended – covered a range of topical issues highlighting threats from global warming, climate change and tree health as well as the opportunities for forestry to continue to make a significant contribution to sustainable housing, renewable heat and power and the scope for forest and woodland management in upland catchments as a means of flood mitigation.
All students received sponsorship vouchers from A.W. Jenkinson Forest Products to be redeemed at Clark Forestry Engineering in Dumfries, who offer a large range of forestry-based equipment for the students to choose from in support of their learning and practical forest management skills.
A.W. Jenkinson Forest Products is one of a number of Cumbrian-based businesses supporting student development through work placements, apprenticeships and student sponsorship. Richard Palmer; Commercial Director commented, "we believe these awards to be vital in encouraging young people and new starters across all sectors of the forestry and wood processing industries and we look forward to following the progress of all the students during their time at Newton Rigg".
A.W. Jenkinson Transport Ltd deploy New Generation Scania R450 6x2 Tractor Units
12 January 2017
A.W. Jenkinson Transport Ltd. has this month introduced a new generation Scania R450 6x2 unit into its existing fleet of over 500 vehicles.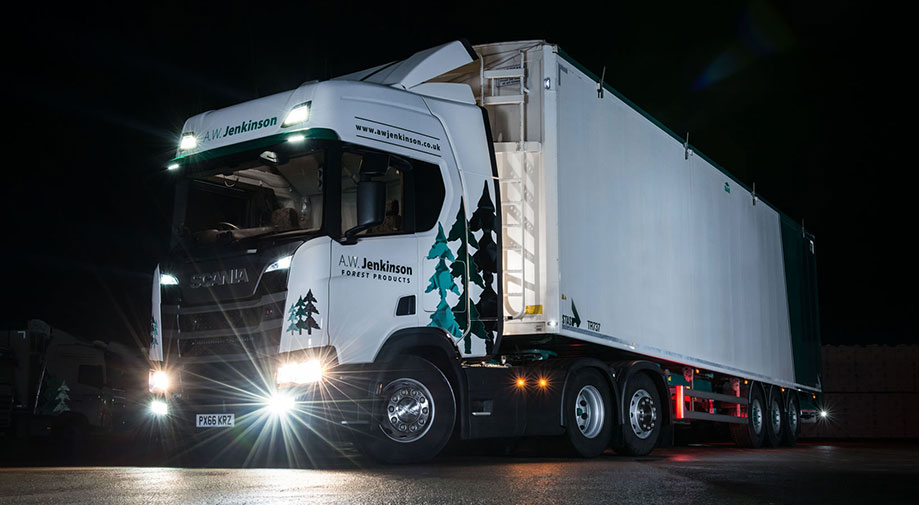 There is no doubt that the new model will bring real benefits to the fleet - although only 2 weeks into its service the fuel figures returned and the power/torque from the 450 engine have really set a benchmark.
The latest euro 6 engine technology which further lowers emissions is especially important to the business as it strives to reduce its impact on the environment.
Peter Patterson, one of the Company's most experienced drivers with over 30 years' service, was selected to test the new arrival. During his time with A.W Jenkinson he has driven many models from different manufacturers but the R450 certainly seemed to impress.
Specifically he commented:
The automatic gearbox is fantastically smooth and gives a clean change every time.
The all-round visibility is excellent from the driver's perspective - this is really important and reduces the risk of accidents.
The bed is one of the most comfortable I have slept in - almost like being at home!
The whole cab and layout just has a really good feel to it.
"It's also the quietest wagon I've ever driven!"
It is easy to understand reading Peter's comments why A.W. Jenkinson Transport has had such a long and successful relationship with Scania.
The business will continue to invest in the most modern vehicles and technology available to ensure that it continues to deliver the exceptional service that customers have come to expect.
If you have any queries about this vehicle, please contact Neil from A.W. Jenkinson Transport on 01768 593 313 or neil.simpson@awjtransport.co.uk
Christmas in Penrith
01 December 2016
A.W. Jenkinson Forest Products has helped to add a touch of Christmas sparkle to the streets of Penrith.
Working alongside other local businesses, a team of employees from A.W. Jenkinson Forest Products delivered and positioned 210 real Christmas trees throughout the town in time for the Christmas Light Switch-On this December.
As well as erecting all 210 of the miniature Christmas trees, A.W. Jenkinson Forest Products has also sponsored the Penrith Town Hall Christmas Tree and Penrith Leisure Centre Christmas Tree.
Co-ordinator Sarah Arragon said 'it's been a lovely process to be a part of, Project Christmas, I cannot thank A. W. Jenkinson Forest Products enough for their part'.
After the holiday period is over, the Christmas trees will be removed, composted and used on a local estate.
Penrith Community First Responders Donation
31 October 2016
Community First Responders (CFRs) are volunteers who give their time freely to help care for people and save lives in their community. CFRs provide support to the regular Ambulance Service by attending serious and life threatening 999 calls.
The Penrith group covers Penrith, Stainton, Hackthorpe, Lowther, Yanwath, Askham, Eamont Bridge, Whale, Celleron, Melkinthorpe, Clifton, Clifton Dykes, Great Strickland, and Helton – in fact, anywhere within a 5-mile radius of a responder's location.
A.W. Jenkinson Forest Products recognises that being a largely rural based operation requires investment in facilities to help protect our workforce wherever possible. At all sites we now have staff trained as First Aiders competent in CPR and ELS (Emergency Life Support) and the use of defibrillators via the Heart Start Programme.
A.W. Jenkinson Forest Products together with its associated companies has invested in 24 iPAD SP1 defibrillators. These potentially lifesaving devices have been installed at various AWJ sites and also in the cabs of machines operating in remote areas such as harvesting and isolated chipping sites.
Several of the defibrillators are in all-weather cabinets and are available to the First Responders and the general public. This will help the Askham, Hackthorpe and Penrith Community First Responders provide lifesaving support to Penrith and its surrounding villages.
APF Show 2016
07 October 2016
The APF Show 2016 was the best yet, with A.W. Jenkinson Forest Products at the forefront of the UK's largest woodland, forestry, arboricultural trees and timber exhibition. Members of staff from both AWJ Forest Products and AWJ Transport Limited and manned the stand at Ragley Estate, Warwickshire over the three days of the show, demonstrating some of our new machinery and meeting with clients, customers and visitors to the show.
As well as the A.W. Jenkinson stand, one of the main attractions was the European Chainsaw Carving Competition. This major event drew large crowds and entrants from around Europe and was co-sponsored by A.W. Jenkinson Forest Products and Tilhill Forestry, and has been since 2010. The winner of this year's competition was William (Will) Lee who can be seen on the photographs below with his sculpture of a 'bear' tree surgeon and his groundsman. Will defended his title and now has the honour of being placed first for three years running (2012, 2014 and 2016).
You can follow the APF Show on Facebook and on Twitter @APFExhibition. For full details on the exhibition contact info@apfexhibition.co.uk